WHAT IS HAPPENING?

Although food production in the world is sufficient for everyone, there are still 821 million people sleeping on an empty stomach at night. The highest risk group of hunger comprises of expectant/nursing mothers and small children. According to the World Health Organization (WHO) reports, almost half of the deaths of children below 5 years results from malnutrition.  Infection findings in the first thousand days of a child's life cause irreversible effects on physical and mental development of the child.
As a result of the current conflicts lasting for 4 years in Yemen, 24 million people, the 80% of total population, needs humanitarian aid to survive, and the status of 10 million is defined as "on the verge of drought". Due to chronic malnutrition, 40% of the children under 5 years face with insufficient development in Chad.
WHAT DO WE DO?

Within the scope of nutrition health projects, Yeryüzü Doktorları establishes nutrition health centers and supports the existing center in the regions where people face with many nutrition problems due to drought, poverty and conflicts. After the examinations, medical nutrition therapies are conducted in these centers towards children under 5-years and nursing/expectant mothers diagnosed with severe acute malnutrition. Malnutrition observed in especially children under 5-years is treated by medical nutrition therapy program in these centers.
Malnutrition is a disease which results from the absence of protein and energy and accompanied by infection repetitions. Unfortunately, it is impossible to survive only with daily ration for the people facing with it. These people can only be saved by medical nutrition therapy.
Yeryüzü Doktorları have provided many nutrition health projects so far in the countries suffering from hunger such as Somalia, Niger, Yemen, Syria (Eastern Ghouta), and thousands of people have been delivered examinations and nutrition treatments. Apart from nutrition health projects, we have been able to help people with food aid by favor of your supports.
As a part of preventive health care services, Yeryüzü Doktorları have distributed food packages in many countries and organized iftar meals in Ramadan with intent to support nutrition health.
Up to date, Yeryüzü Doktorları have reached out over 100 thousand people in Bangladesh, Chad, Palestine, Somalia, Sudan, Syria, Yemen, Afghanistan, Pakistan, Niger, Ghana, Gaza, Uganda, Kenya, Mali, Gambia and DC Congo, within the scope of nutrition support services. These services are still being provided in selected countries as they are every year.
THE REGIONS WHERE WE ACTIVELY CONTINUE PROVIDING THE NUTRITIONAL TREATMENTS ARE LISTED BELOW: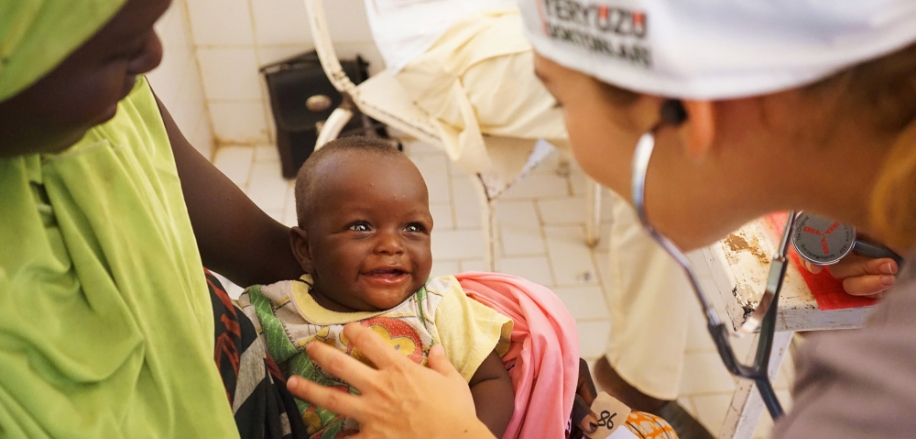 YEMEN NUTRITIONAL HEALTH CENTERS

In May 2016, we opened 4 nutrition health centers in the regions of Al-Sheikh, Dar Sad, Al-Mulla and Al-Borika in Aden province, and conducted examinations and nutritional treatments until the end of April 2017 for those in need, particularly pregnant/nursing mothers and children.
As of March 2018, our activities have been continuing in the nutrition health centers opened in the regions of Al-Nasr and Faqum in Aden province and in the regions of Old Fowa and Alber Hadramawt provinces.
CHAD-SIDO REFUGEE HEALTH CENTER

We have been providing primary healthcare services at our Chad-Sido Refugee Health Clinic since 2016. As of 2018, we have been conducting nutritional treatments for people suffering from malnutrition at our clinic.
AFGHANISTAN NUTRITIONAL HEALTH CENTER

With 15 nutrition health centers and 11 mobile health care teams that were built in 15 cities and started to serve in January, we provide examination and treatment services for the people in need especially pregnant/nursing woman and children. Between the dates of 15 January – 31 May, nutrition examinations were provided for 25,213 children under 5 years, and medical nutrition treatments were provided for 1,551 children and 1,720 mother. Besides, 10,431 pregnant/nursing women were trained in nutrition education.
OUR PREVIOUS NUTRITION HEALTH PROJECTS ARE ALSO LISTED BELOW:
SOMALI HODAN, LAFOLE AND YAQSHID NUTRITIONAL HEALTH CENTERS
In July 2011, a severe drought, referred to as the Horn of Africa Crisis, hit the entire region of East Africa, affecting Ethiopia, Kenya, Tanzania, Somalia, Eritrea and Djibouti, and caused around 13 million people to suffer from hunger and malnutrition. Even only in Somalia, 4 million people suffered from hunger due to this crisis.
Yeryüzü Doktorları responded to this crisis by opening three nutrition centers between 2011 and 2012 in the regions of Lafole, Hodan and Yaqshid in Somalia, where we provided necessary healthcare services for over a year. During those years, 47 thousand 576 medical examinations and 8 thousand 112 acute malnutrition treatment sessions were carried out.
SYRIA EASTERN GHOUTA MATERNAL AND CHILD HEALTH NUTRITION SUPPORT PROGRAM
According to the report published by OCHA in 2016, more than five and a half million people in Syria are trying to survive under siege. In particular, the 590 thousand people trapped in cities such as Deir Ez-Zor, Kafraya and Eastern Ghouta cannot access humanitarian aid, medical treatment and basic services they need. In these areas, dozens of people waiting to be evacuated have been killed during the war and tens of people died of hunger.
During 2017, a program was launched to provide food support to 2 thousand 500 mothers, infants and children in order to support people in the Eastern Ghouta where 420 thousand people live under siege. In addition, for 6 months in this region, regular nutrition therapies were provided under the supervision of experts for nursing/expectant mothers, babies between the ages of 0-2 and children between 3-5 years.
NIGER KORİA HAOUSSA MATERNAL CHILD AND NUTRITION HEALTH CENTRE
Yemen is facing a major humanitarian crisis as a result of the internal turmoil that emerged in 2015.
Particularly with the purpose of solving the health problems resulting from malnutrition, Yeryüzü Doktorları established four nutrition health centers in the regions of Al-Sheikh, Dar Sad, Al-Mulla and Al-Borika in Aden, Yemen. Primarily for mothers and children, nutrition health therapies and medical food were provided for the region.